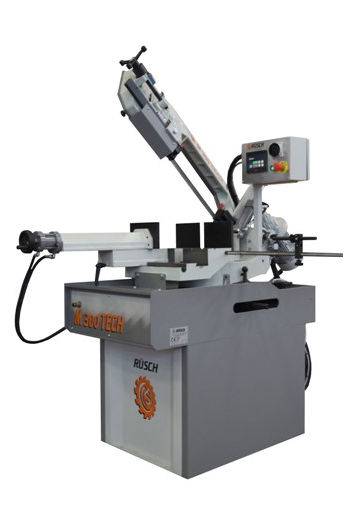 RÜSCH M 300 TECH, semi-automatic bandsaw machine with mitre cutting from +45° to -60°. Hydraulic downfeed and hydraulic vise
Basamento in acciaio elettrosaldato che incorpora la vasca refrigerante con elettropompa.
Arco in ghisa inclinato di 30° rispetto all'asse Z che riduce notevolmente il raddrizzamento della lama, consentendo alla stessa una minor torsione con conseguente maggior durata.
Volani montati su cuscinetti a rulli di precisione.
Solida struttura dei bracci guida lama che li rendono esenti da torsioni e vibrazioni.
Morsa idraulica con volantino.
Regolazione idraulica discesa arco.
Tensionamento lama tramite volantino. ( 1200 kg tiraggio lama ).
Arresto macchina in caso di rottura lama o tensione insufficiente.
Regolazione arco alto.
Battute di arresto per il taglio a 0°, 45°, -60° con leva per bloccaggio a qualsiasi angolazione.
Perno eccentrico arco registrabile tramite 2 cuscinetti orientabili a rulli.
Pompa refrigerante collegata a diversi ugelli che provvedono alla lubrificazione della lama.
Guida lama con 4 placchette in WIDIA e 4 cuscinetti di pre-allineamento eccentrici registrabili.
Dispositivo pulisci lama a spazzola.
Impianto elettrico conforme alle norme CE. Tensione di collegamento standard 400V. Tensioni comandi 24 Volt c.c.
Strumento elettronico a microprocessore RÜSCH® per gestione cicli di taglio manuale e semiautomatico.
Display con visualizzazione taglio, diagnostica e allarmi.
Variazione di velocità selezionabile tra 36 e 70 m/min tramite selettore sul pannello comandi.
I comandi della segatrice sono centralizzati su un unico pannello. Essi comprendono: Interruttore generale, pulsante di linea e selettore velocità lama.
La segatrice è corredata da certificato a norme CE e fornita in conformità alle norme di sicurezza internazionali.
DOTAZIONE STANDARD: Manuale di istruzioni, 1 nastro, supporto materiale, asta fermo barra.
Accessori:
Rulliera di carico da 2 metri.
Rulliera di scarico da 2 metri.
Rulliera di scarico da 2 metri con fermo di misura.