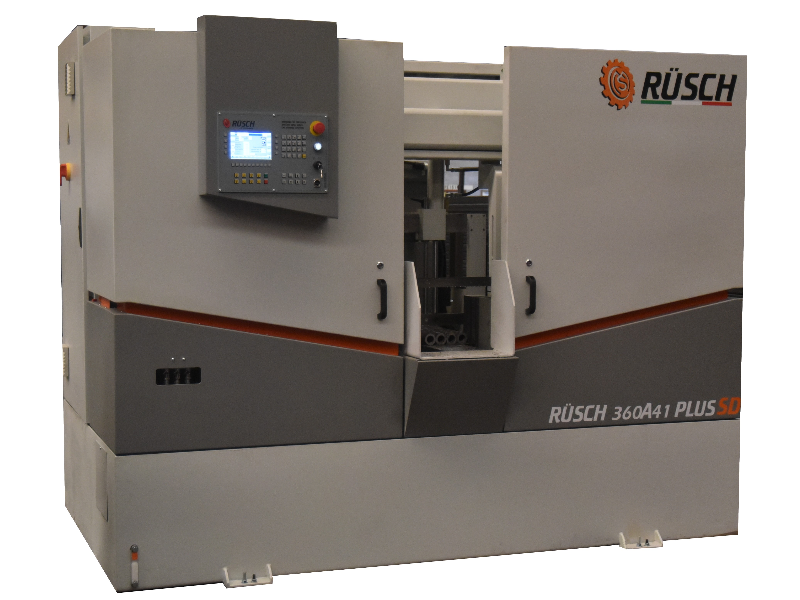 RÜSCH 360A41 Plus SD, double coloumn automatic bandsaw machine, feeding carriage moved by a ballscrew. All movements on linear bearings. 3 axis drilling head on board. Sawing and drilling in the room of a bandsaw machine!
Controllo numerico a due assi in anello chiuso.
Display alfanumerico di serie dotato di autodiagnostica e visualizzazione di aiuto in linea.
Motoriduttore ad inverter con regolazione elettronica continua della velocità lama.
Movimenti degli assi su guide lineari a ricircolazione di sfere.
Trascinamento della barra elettrico con vite a ricircolazione di sfere.
Evacuatore trucioli a coclea motorizzato.
Sistema di pulizia pulisci lama automatico.
Sistema di arresto macchina in caso di rottura lama.
Timer spegnimento della pompa dell'olio in caso di macchina non utilizzata.
Vasca di contenimento del liquido lubrorefrigerante integrato nel basamento macchina.
Controllo automatico dello sbandamento lama durante il taglio.
Impianto oleodinamico con pompa a portata d'olio modulabile (applicazione con risparmio fino al 50% di energia elettrica).
Unità di foratura verticale.
Impianto di lubrificazione minimale per l'unità di foratura ( Optional ).